Educational safety experience
Risk Factory, Venlo (The Netherlands)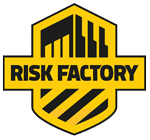 Following the success of the Risk Factory in Twente (the Netherlands), now a second one has opened its doors in Venlo! The Risk Factory is an interactive education center for safety awareness, especially for kids. Lagotronics Projects has been asked to create the experience of the pre-show and openings show of the Risk Factory.
The educational concept has its origin in Great-Brittan. During a visit to the Risk Factory, kids learn how to act in a safe way in critical, unsafe situations. They'll experience different situations in a very realistic way; this makes it extra exiting and instructive. Some examples of the scenarios are fire hazard, internet use, traffic safety, peer pressure, contact with emergency services and the importance of hygiene. These real-life scenes change the perspective on risks.
The complete show is being controlled by the show control technique of Lagotronics Projects. We used maintenance friendly laser projectors, advanced audio equipment and RGB LED spots for this project. To complete the whole experience, some great special effects were added.
Ralf Holzapfel, Senior Sales Representative at Lagotronics Projects:
"We're very happy with these kind of projects. In this way we can show that our products, besides the theme park attractions, perfectly match educational projects like the Risk Factory! Another good example is the VR-experience for the World Pavilion in Steyl."