Superior Experience Center for Seacon Logistics
Seacon Logistics is a worldwide, high-quality supply chain manager in logistics services. Due to continuous changes in this sector in terms of knowledge, techniques and high customer expectations, Seacon has chosen to realize its own Experience Center. So they are able to inform their customers in a professional way.
Innovative solutions often require a high conceptual ability from the customer. Our magic word: experience. Let your customers experience themselves! And that's exactly what Lagotronics Projects is good at! Corné Geerts (CEO Seacon Logistics), decided to contact Ralf Holzapfel from Lagotronics Projects to discuss his plans. The look and feel had to be futuristic and industrial. For the interior design we worked together with Kim van Bakel. It was our challenge to turn a part of the existing warehouse into an amazing Experience Center.
Design 
The room has a somewhat special shape. Therefore, we had to measure things before we found the right design. Everything in this room had to form a unity: colors, materials, lighting, and audiovisual equipment. The shape of the columns, bar and floor tiles show an ironic reference to their logo. The end result is a true experience!
Audio & visual delights 
One of the eyecatchers is a huge projection. To create an exclusive look, we've used a projection on a custom made glass plate with a size of at least 320 x 200 cm. We've chosen a high quality Epson laser projector because of its low maintenance and long lifespan. Behind this projection is the technical area, with most of the equipment. The 19" rack contains a fixed Barco Clickshare to be able to work wirelessly with a laptop or with Ipad through airplay. All sources are connected to the projector through a HDMI switcher.
Naturally, a high class Experience Center has to have a perfect sound. We've combined two Bose surface-mounted loudspeakers from the RMU series with a subwoofer for bass reproduction. All audio sources are connected to a digital signal processor (EPS) for an optimum setting.
As a nice extra, we've installed a second laser projector to display the logo of the visiting company.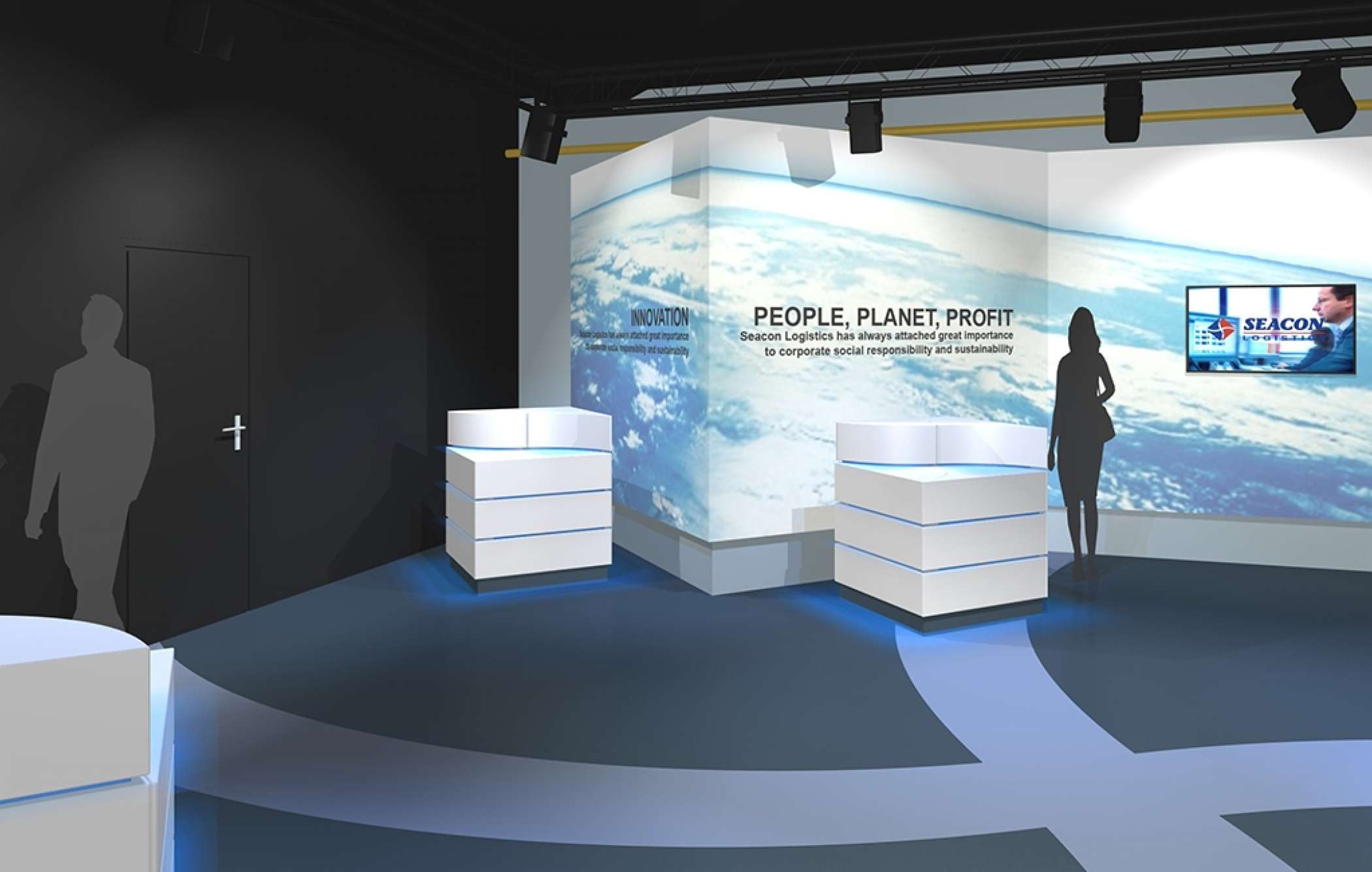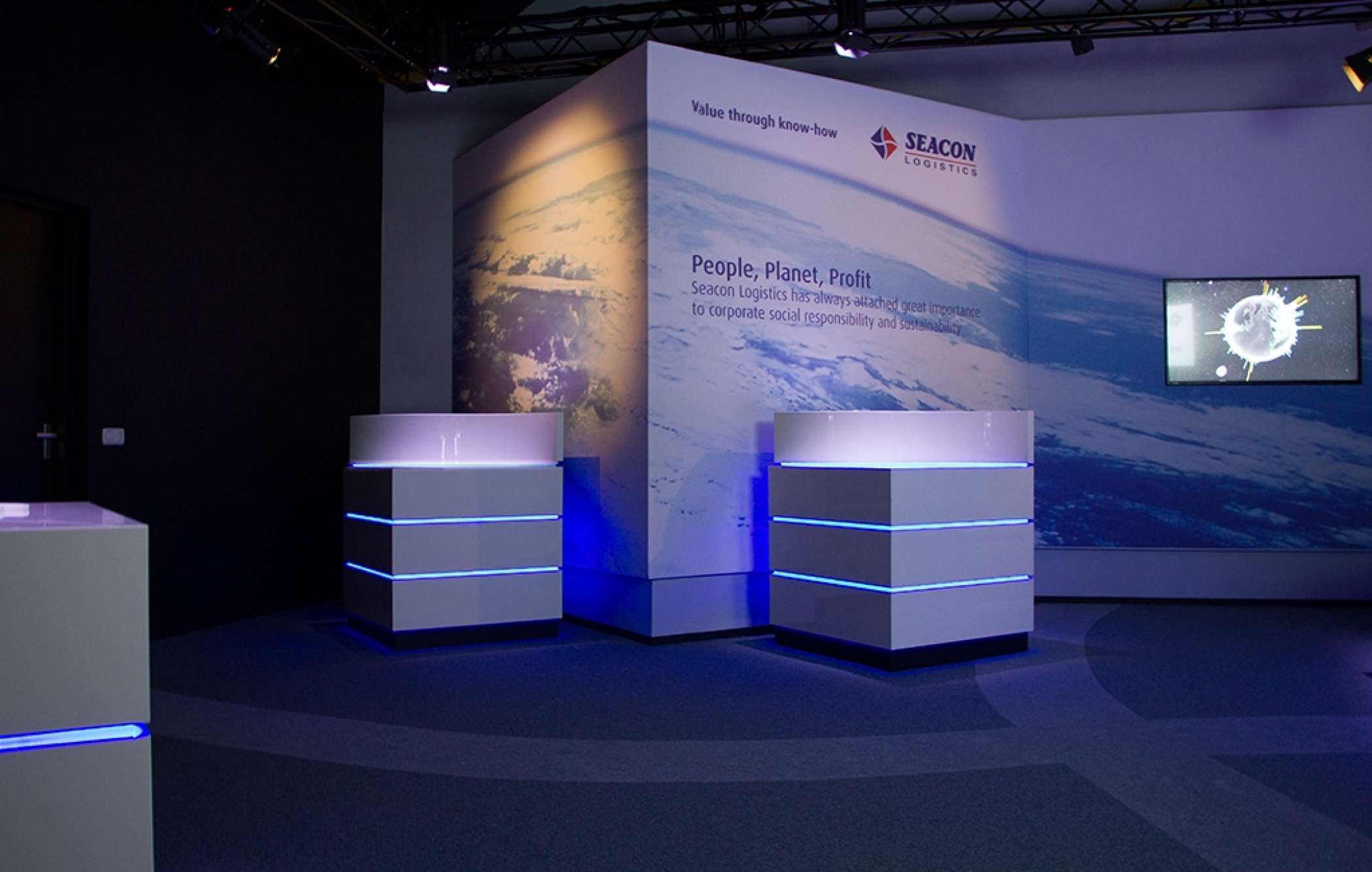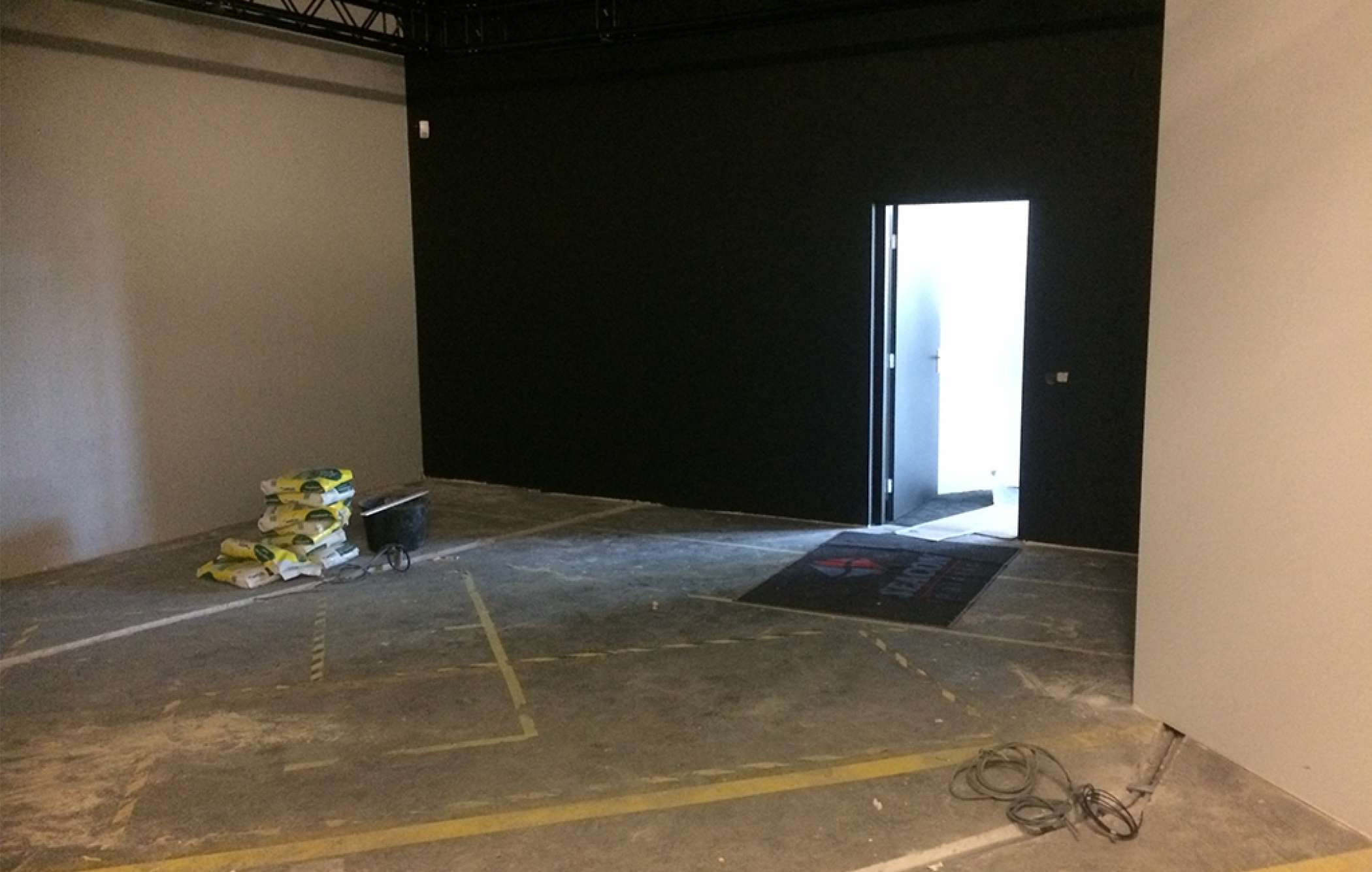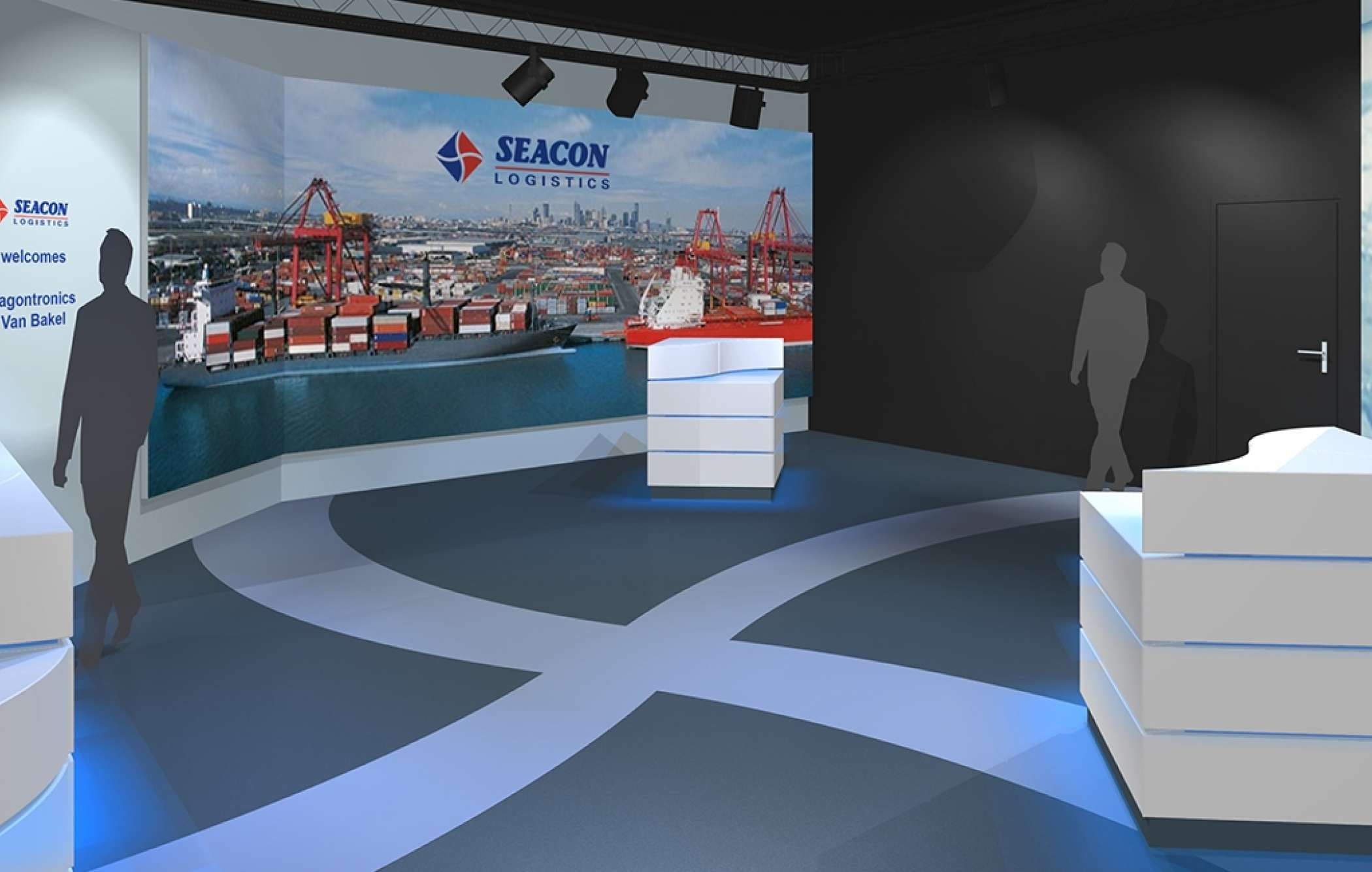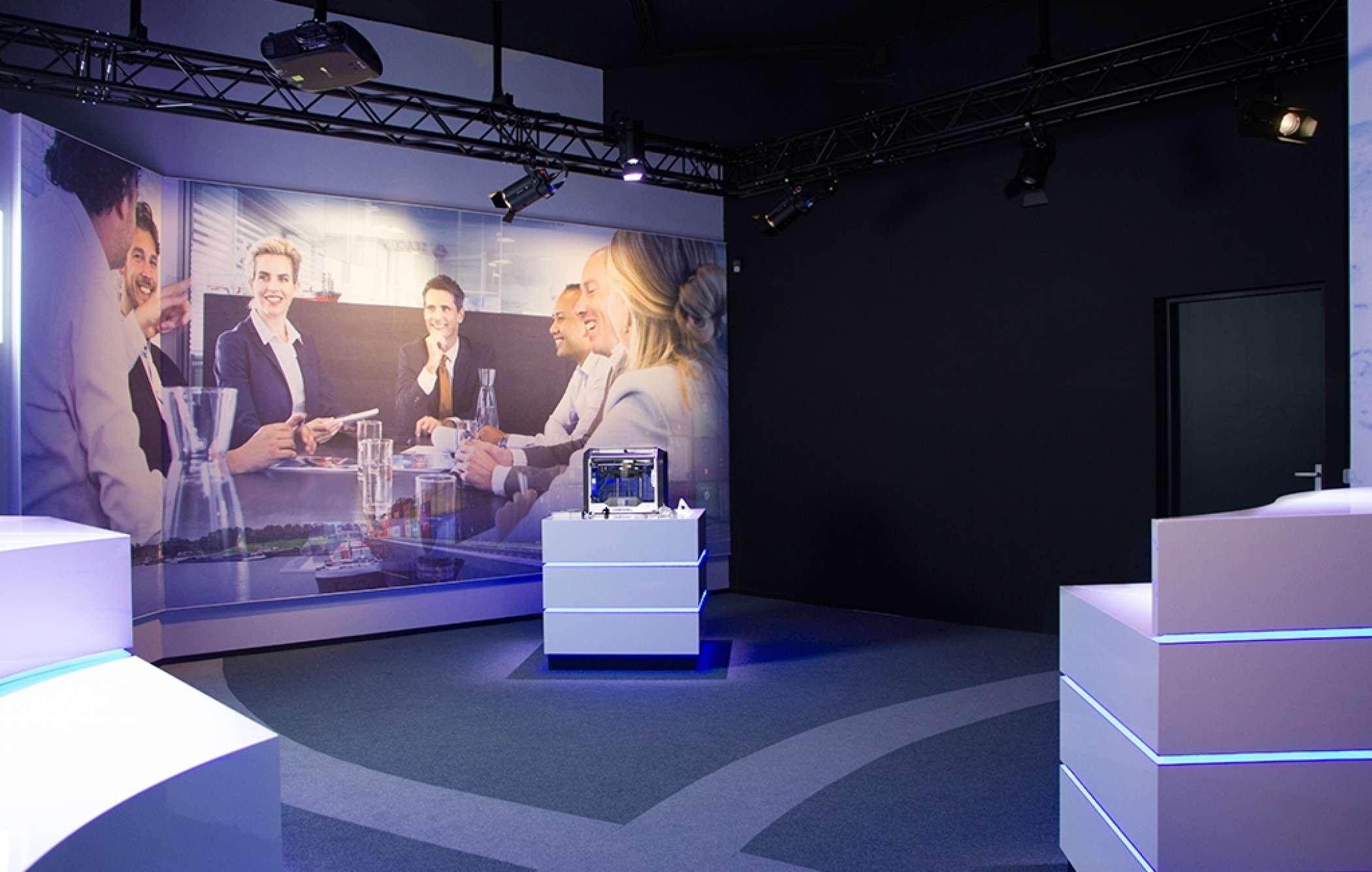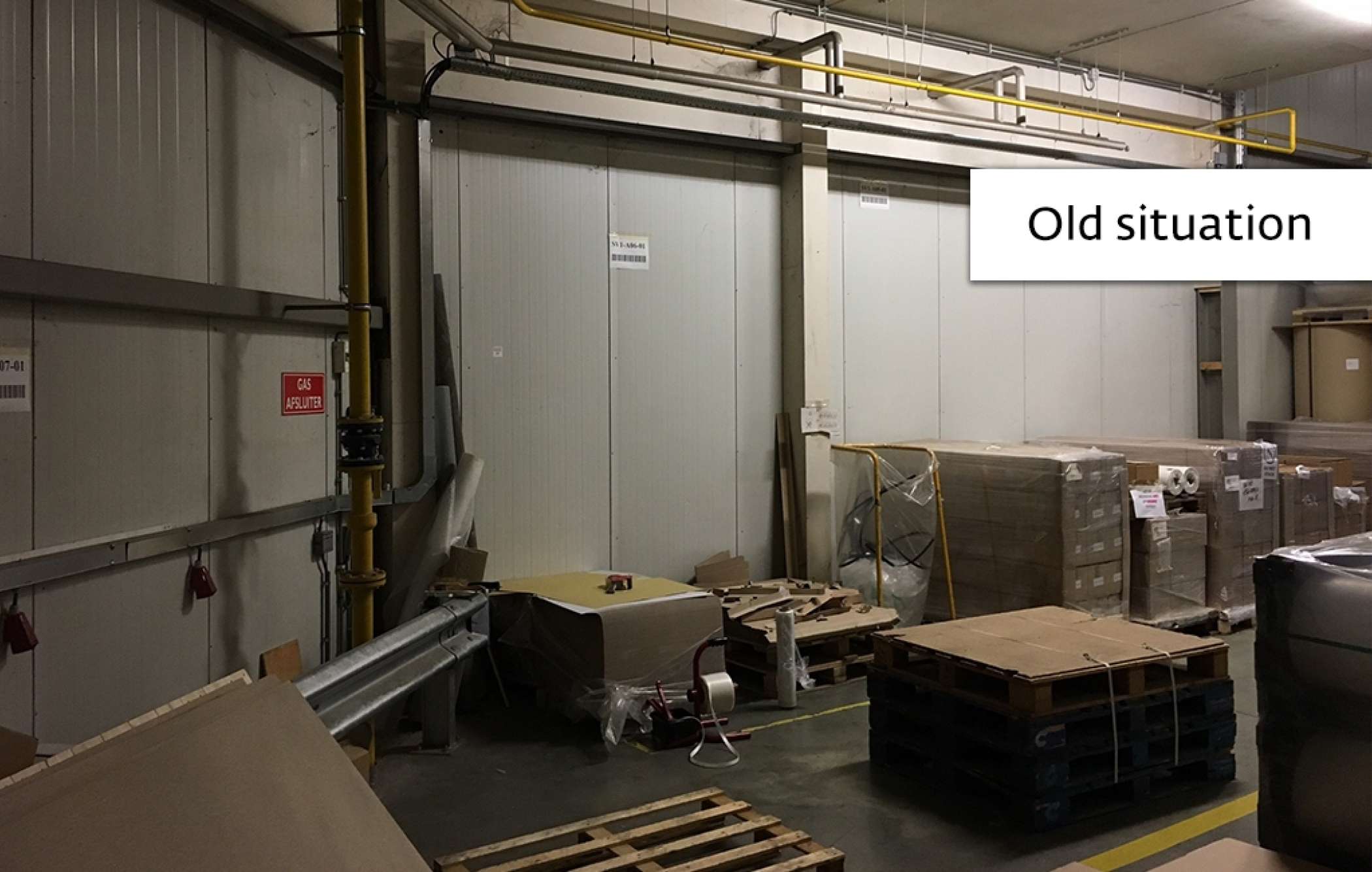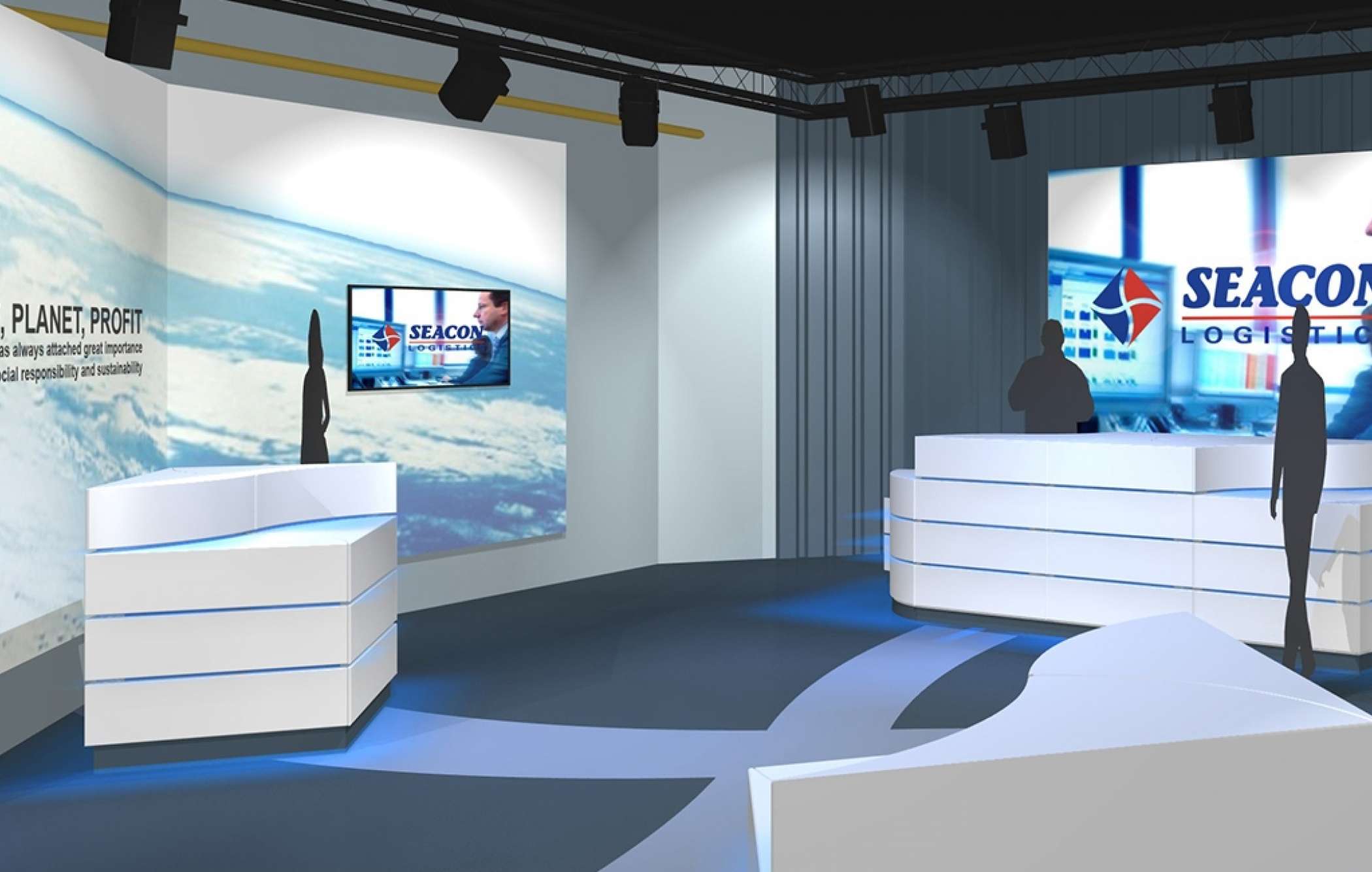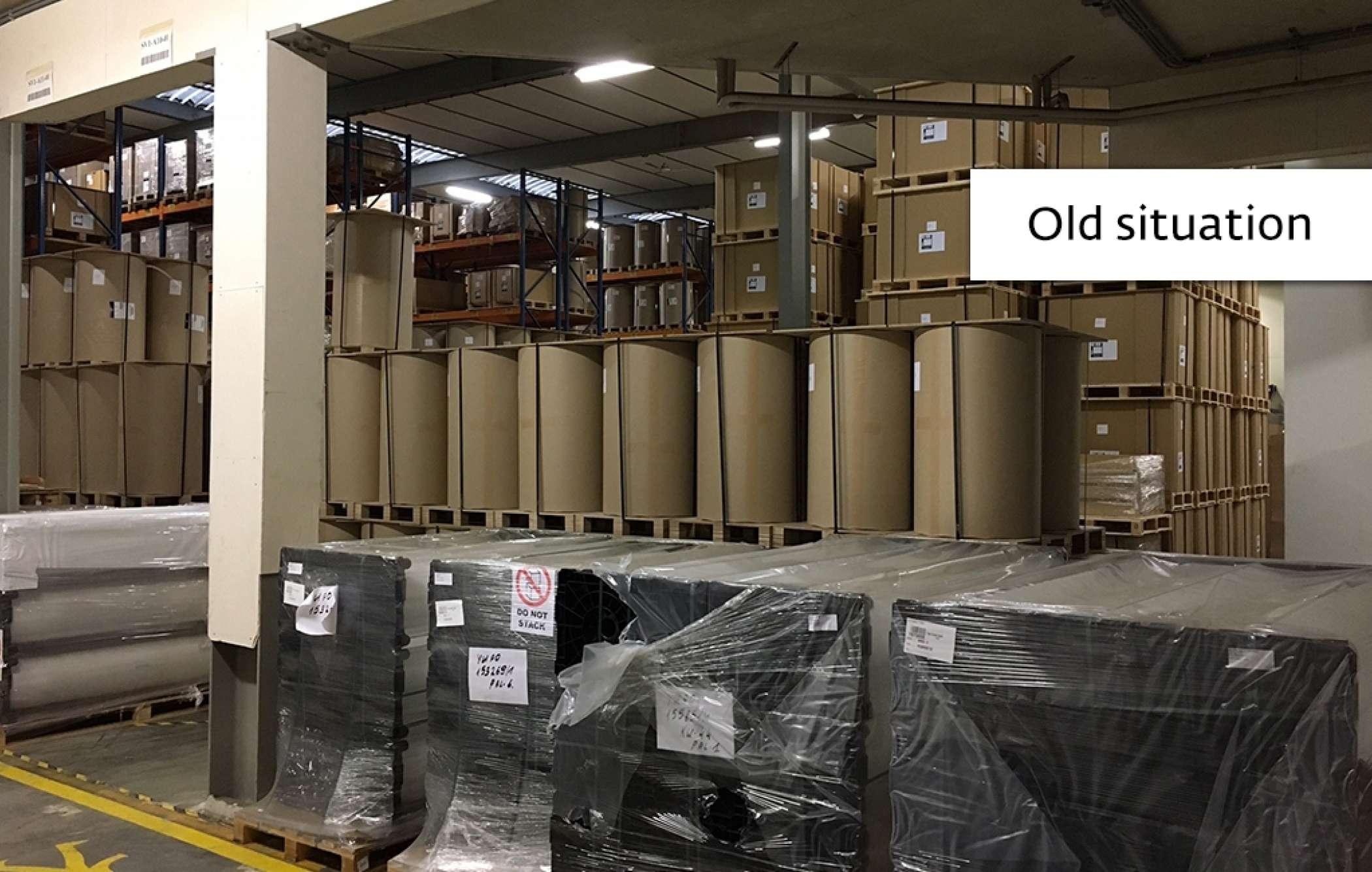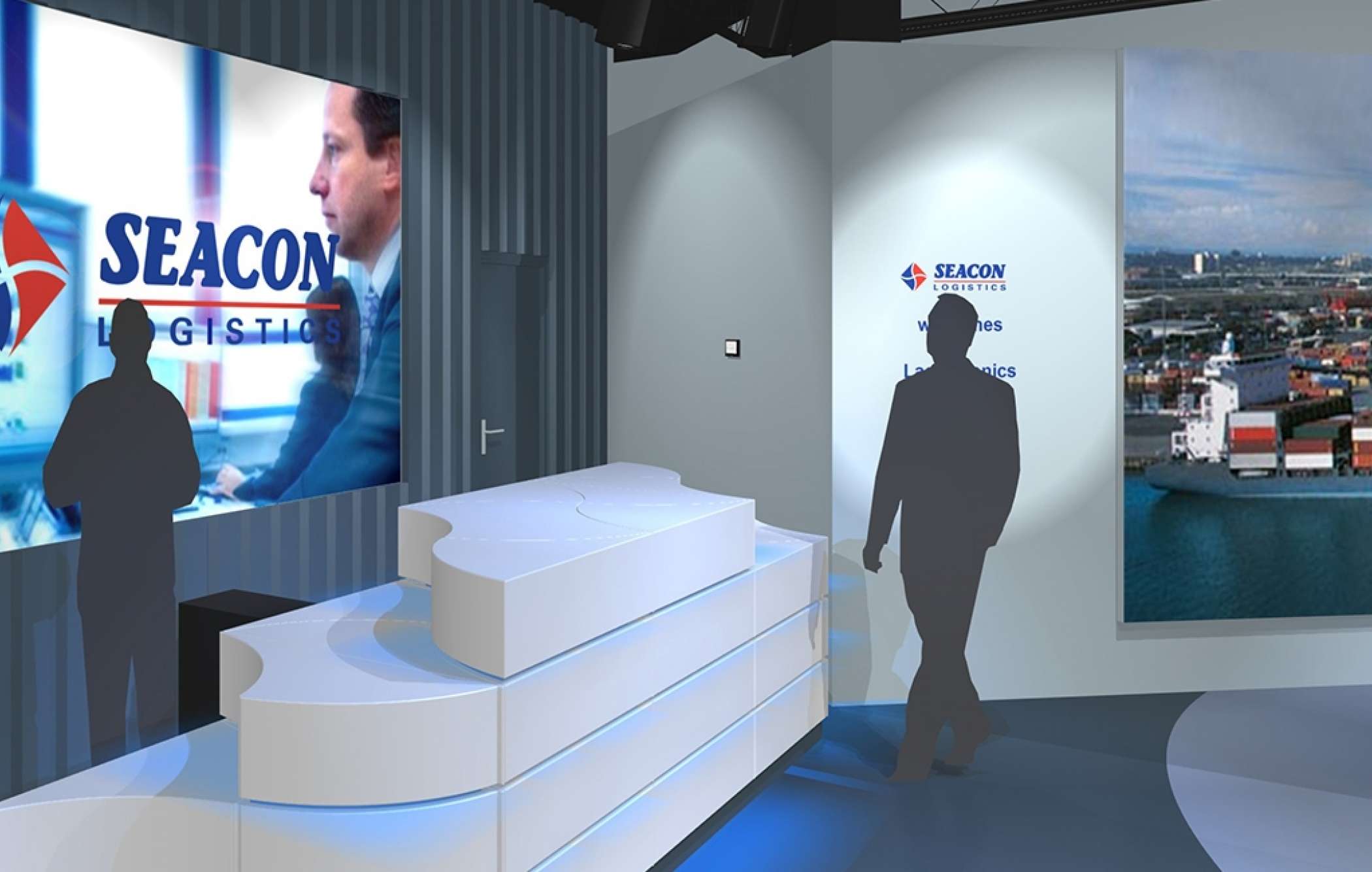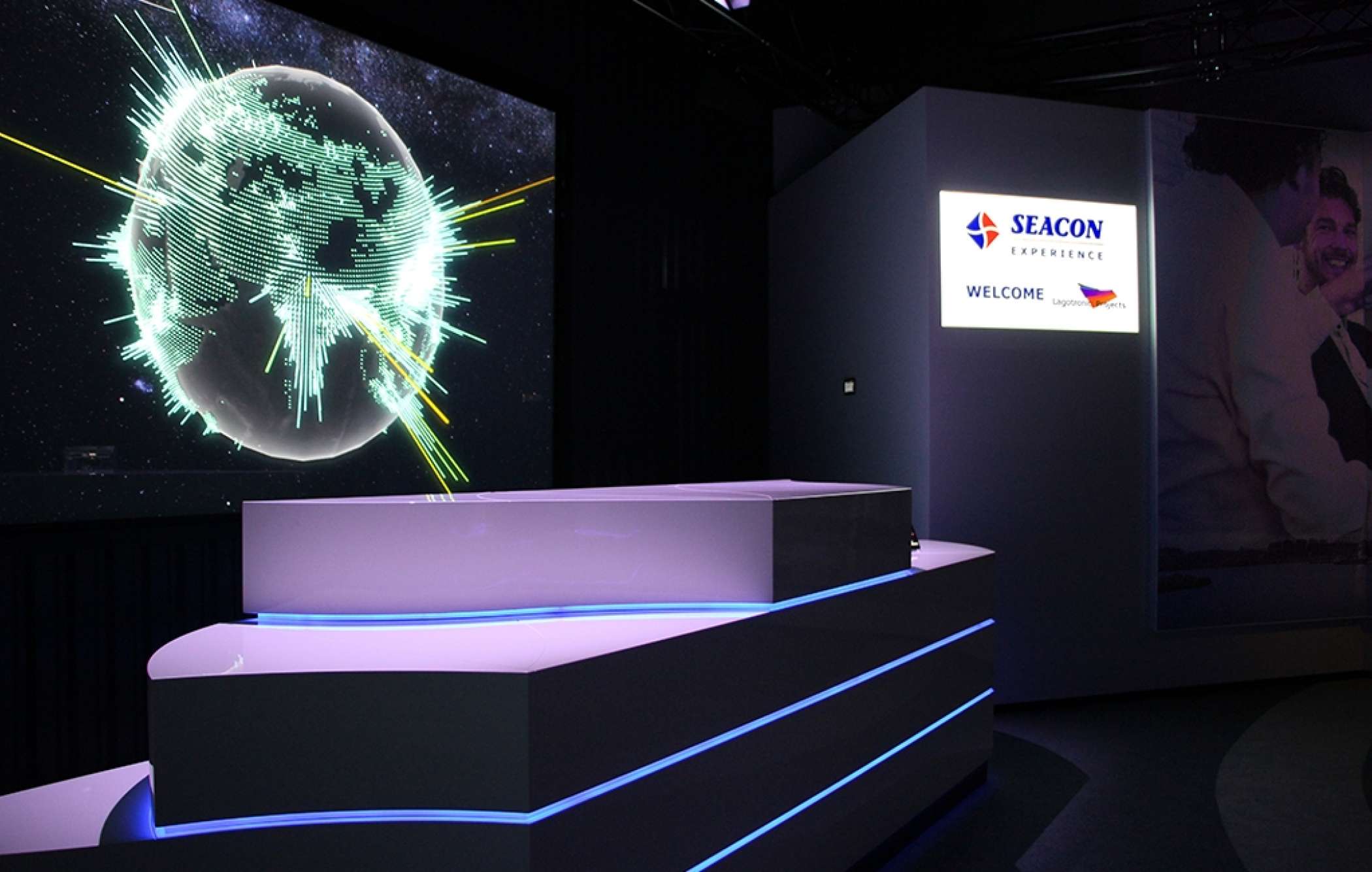 LED-lighting 
Smart lighting techniques can give a room a superior look and feel. A number of full color LED spots ensure a beautiful illumination of the columns and the bar. In these white high-gloss columns and in the bar, RGB LED-strips are installed, which create a futuristic look. All lighting is being controlled by a compact DMX control.
Central control 
All equipment can be controlled with a 5" Crestron touchscreen, which is perfectly built in the wall. This makes it easy to control the projector, audio and lighting system.
In short: the Experience Center of Seacon Logistics is another project to be very proud of. Just have a look at the pictures and see for yourself!