The biggest battle on every Level!Are you ready to enter the new and unique Battle Arena? During this battle, all gondolas move up and down between the three levels, at unexpected but pre-programmed intervals. Using a joystick in their gondola, visitors can rotate their gondola around its own axis. Targets have been placed in the scenery, on the ride's arms and on the gondolas. Visitors discover new targets at each level and try to hit as many targets as they can in the scenery, on other gondolas and (optional) even in the queue to collect as many points as possible. 'Bonus Targets' are also dotted around; these targets are less visible and more difficult to hit, but give visitors additional points!
Steal points from opponents
A new element offering even more fun, making this ride a true battle, is that players can play as a team and steal points from their opponents, this can be done by hitting targets on their gondolas. This battle can be played either by individual visitors, individual gondolas, but also with multiple gondolas in one team. Which team will win?
The integrated score system keeps track of all points collected by players. At the end of the ride, players can view and compare their scores.
Level of Theming & Storytelling
The Battle Arena ride can be customized for every customer, with specific scenery, storyline and content (audio/video). The ride can be delivered with minimal theming, but also with detailed theming and comprehensive storytelling. There are 3 different levels:
Basic Package: has minimal theming and storytelling, the focus is on the interactive battle and collecting points. The targets are not themed, but LED lighting is present.
Themed Package: the ride and the vehicles are themed as desired.
With a well-thought-out storyline, visitors are led through the ride's objectives. Where possible, targets are objects that are included in the backdrop. Various SFX are integrated in the scenery, which are activated when certain targets are hit.
Dark Ride Package: this is the most comprehensive package, in which we use media (3D projection mapping), interactive video screens and advanced special effects. In combination with the scenery and appropriate storyline, we create a unique dark ride experience. Only suitable for indoor locations.
The Battle Arena is delivered as standard with an interactive system (12 shooters), powerful audio installation, show lighting, score monitor and large LED Wall, to create a truly impressive battle arena. Every package can be extended as desired with SFX, including water effects but also, for example, audio, light and smoke effects.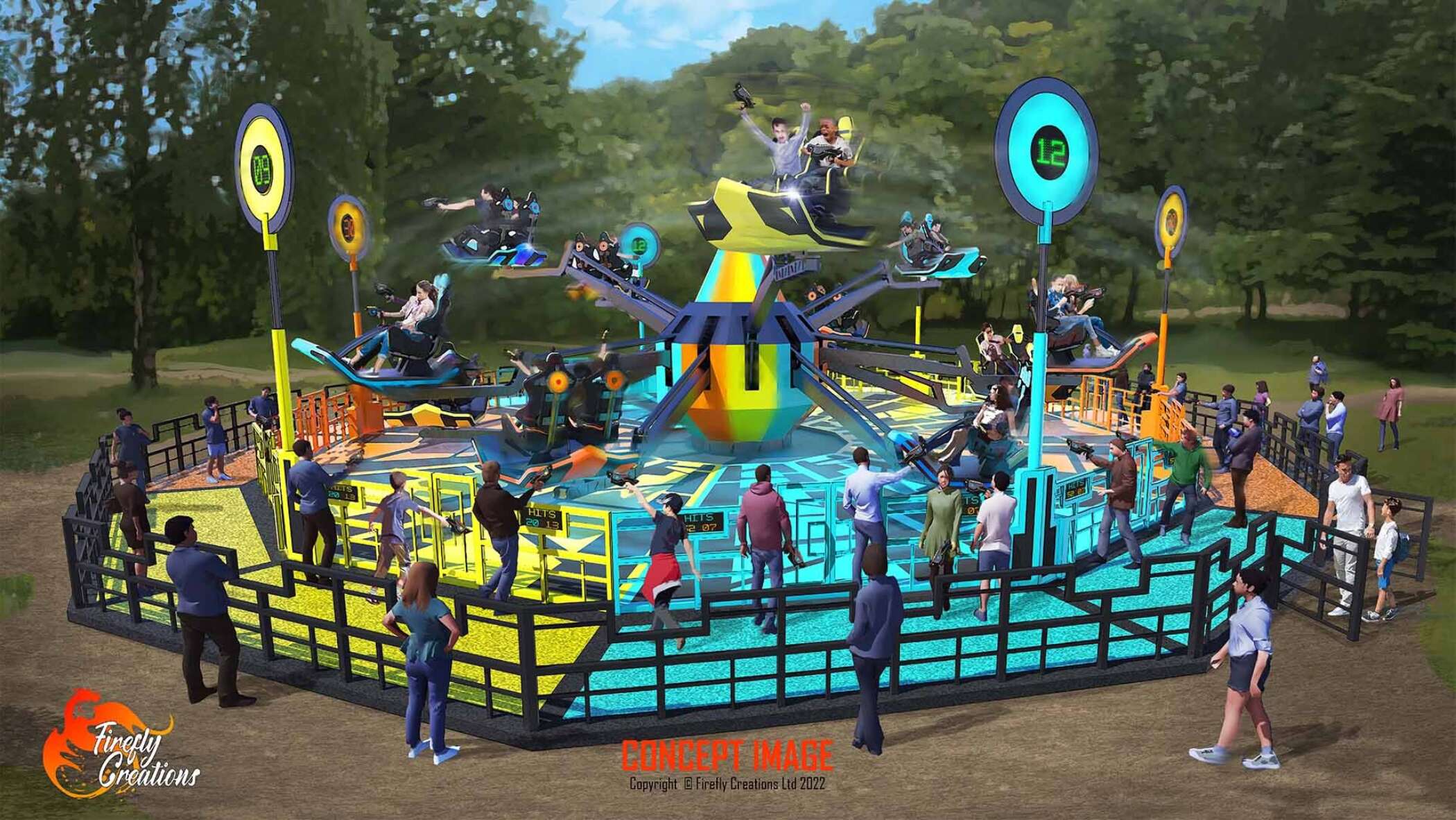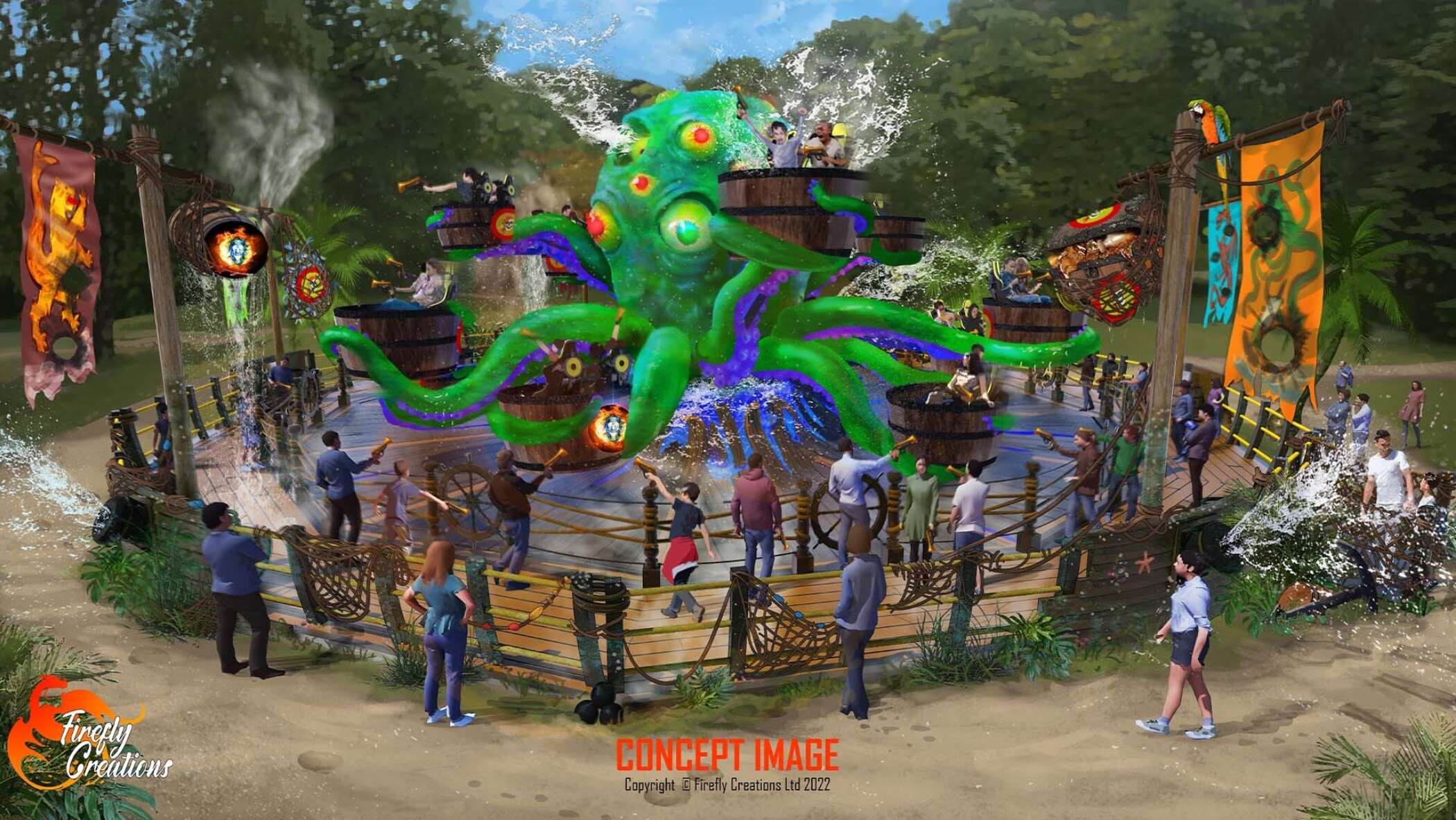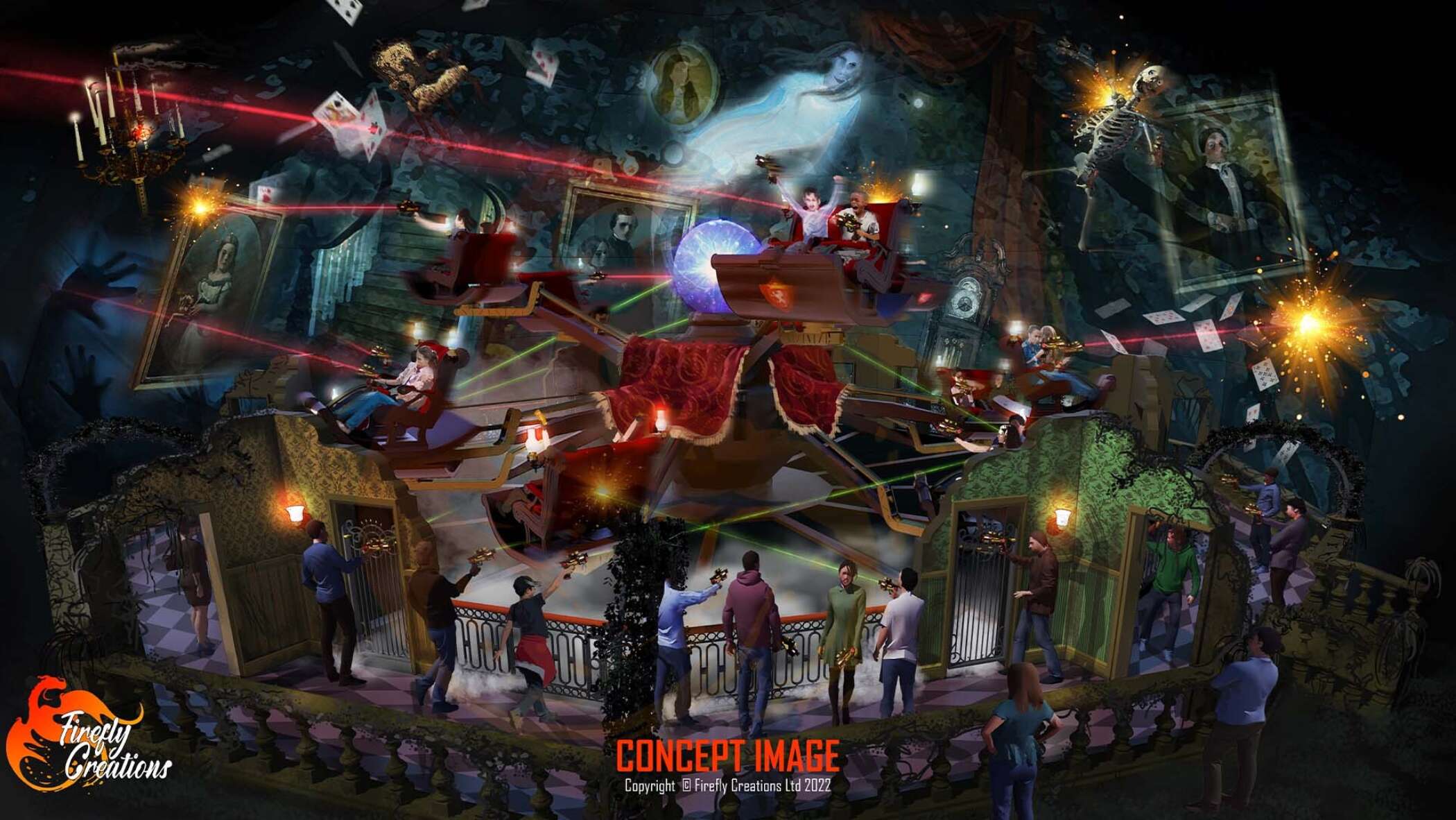 Queue line entertainment
An optional feature is to interactively include visitors queuing for the ride in the battle. A number of shooters will be placed in the queue, allowing visitors to shoot the targets and players (gondolas). This makes the queue part of the experience and this also creates a 'practice arena' for visitors to practice shooting.
Battle Arena Features
Steal points from your opponents
Several team options (individual players or per 2, 3 or 4 gondolas)
Interactive game element in the queue (optional)
Three concept levels, from basic to immersive dark ride experience
Can be modified to any theme or storyline
Battle Arena Specifications
Amount of Arms: 12
Amount of Gondolas: 12
Amount of Shooters: 24
Footprint: Starting from 350 m2