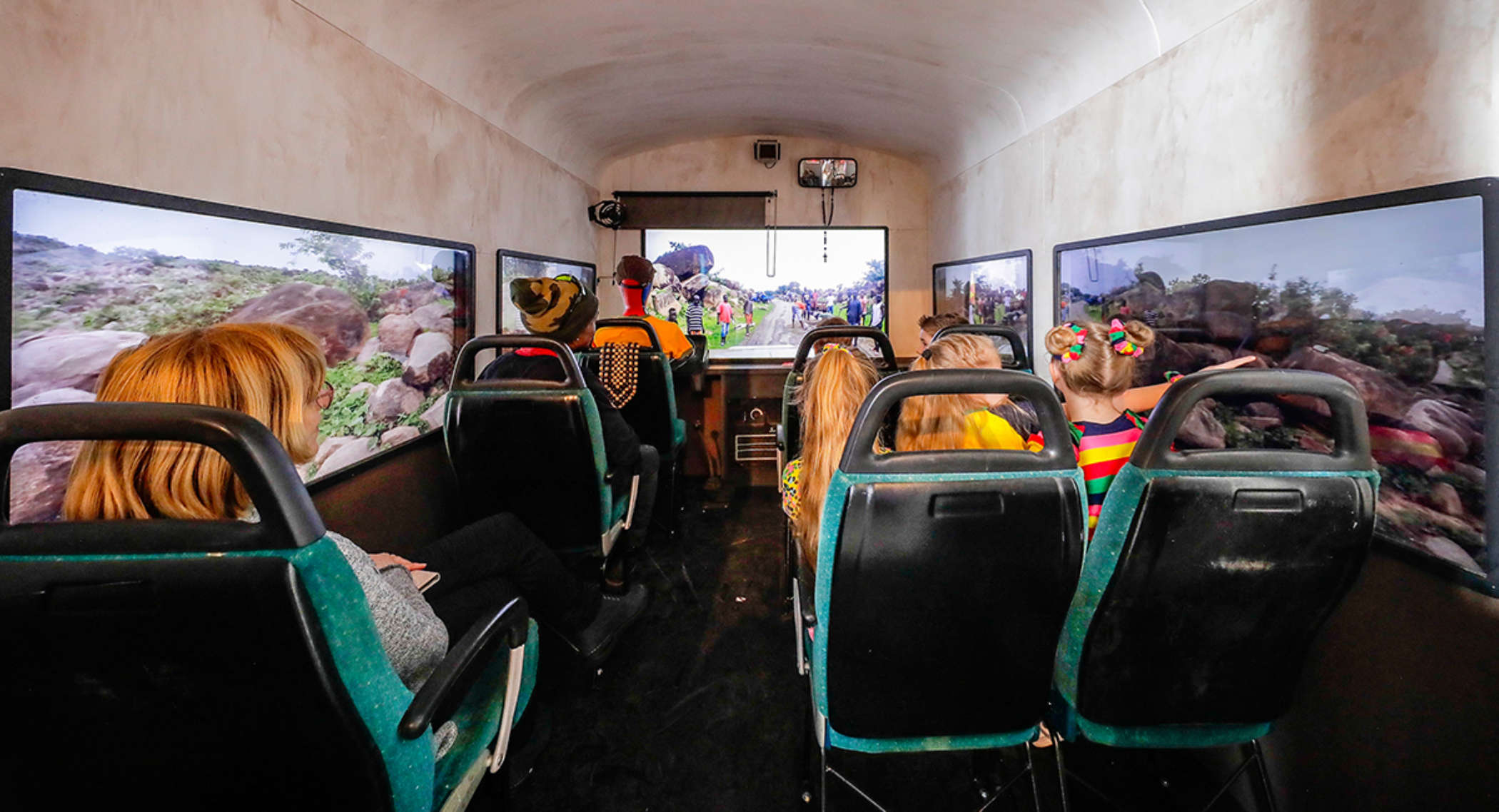 New educational experience for The World Pavilion Steyl
The World Pavilion in Steyl (Netherlands) is a cultural experience center where schools, families and organisations get acquainted with different cultures through fun games, roleplaying and workshops. An extraordinary informative experience! The World Pavilion asked Lagotronics Projects to help them create a contemporary experience about Ghana.
The World Pavilion starts their new educational Ghana program mid-April 2019. The main theme of the program is to look differently at other cultures and is mainly developed for elementary schools, but will also be open for other visitors of course. Guests will learn about the daily life in Ghana, the culture, religion and refugees by experiencing three (life-like!) experiences: a bus ride through Ghana, daily life in the village and the journey of a boat refugee.
The bus ride is an impressive experience: the windows of the bus are replaced by monitors which show moving images of an actual ride through Ghana. This makes the ride very realistic. The village life is realised with the use of virtual reality: visitors will walk through a Ghanaian village with VR-glasses, this will make it seem as if you are actually walking around. The VR-videos are made by filmmaker Marijn Poels from Limburg (Netherlands). To experience the journey of a boat refugee, visitors will get into a real refugee boat. With the use of Virtual Reality, visitors will see what those people go through during their dangerous journey.
"Lagotronics Projects has been a great help with realising our dream", says René Poels, chairman and initiator of the World Pavilion. "The experts from Lagotronics Projects have professionally transformed our ideas to a VR-experience". We are very proud of the result and happy that we chose Lagotronics Projects to work with: a world player close to home".
''We feel honoured that we got to realise this project. Close to home and a nice educational and social touch. Also a great opportunity for us to show what we create with Virtual Reality. Visitors will get to know the culture of Ghana in a playful, but still real life way.'' Mark Beumers, CEO Lagotronics projects
More news